DISASTER PREPAREDNESS RESOURCES
CORONOVIRUS (COVID-19) RESOURCES – March 2020
An epidemic is a large-scale outbreak of an infectious disease, such as influenza or coronavirus disease 2019 (COVID-19).
Our role in responding, as churches, dioceses and compassionate Christians, is to:
Combat fear with knowledge in order to encourage preparedness and decrease stigma.
Maintain operational continuity and continue worship life in the case of potential quarantine and disruption.
Show God's compassion and care to those in our communities who are affected.
These are general guidelines; decisions should be made in collaboration with Church leadership and health authorities, based on local practices and safety concerns. See the Episcopal Relief and Development Resources for Epidemics and COVID-19 information, as well as those of the Maryland Department of Health and Centers for Disease Control and Prevention guidelines on our COVID-19 Response page. Bishop Sutton's updates are available online and for download, as well.
Be not afraid
Feeling prepared for a situation – be it a job interview, a new baby or a sudden disaster – not only helps us experience less fear and anxiety, but can actually improve how things go. Most of the work that goes into disaster response occurs before anything happens. Knowing your congregation's and community's assets is critical to being able to serve the actual needs of the people in a disaster. The relationship building involved in getting to know the assets of your community is invaluable in times of crisis. Instead of finding your congregation going it alone when something bad happens, you can have the support of local business, restaurants, emergency and health care services and more.
Episcopal Relief & Development's US Disaster Program is our greatest resource to help you, your loved ones, your church and your community to prepare for and respond to disasters that may occur, not only with the resources and training they provide but in their organized and disaster-specific fundraising and aid. Please visit the US Disaster Program Preparedness Resources page on Episcopal Relief and Development's website for tips, contacts, checklists, training modules and more. A member of diocesan staff will visit your congregation to consult on asset based community development. Contact Canon Carrie Graves. State-based resources, as well, are linked on this page.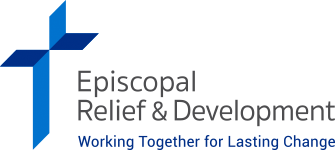 Episcopal Relief and Development's monthly newsletter, Lamplight, highlights current disaster preparedness, relief and response efforts across The Episcopal Church as well as provides links to helpful articles and tools.